Life is a song!  Sing it!  -Sai Baba
With more than 75 members, the Medina Chorus has been performing since 1935. To ensure that the entire community can enjoy in musical experience, we do not require auditions and we keep our concert admission prices low. We perform two concerts (seasons) per year and participate in various community events. We are Medina-based, but there is no residence requirement; our members come from Medina and the surrounding counties.
Rehearsals are on Monday nights from 7:00 – 9:00 pm at the United
Methodist Church in Medina (4747 Foote Road).
Registration for the Fall season opens at 6:30 pm at the Medina United Methodist
Church before the first three rehearsals of each season.
Music is distributed at registration.
The cost per season is $70, payable before the third rehearsal of the season.
Upcoming Fall Season 2020!
Medina chorus returning in September for a new choral adventure…Stay tuned!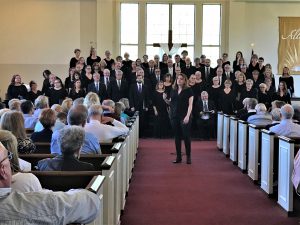 First rehearsal and registration
Rehearsals begin promptly at 7 pm (Please be seated and ready to sing at 6:50 pm).
Rehearsal and Concert Location
Medina United Methodist Church
4747 Foot Road
Medina, OH 44256
Concert
Extra Performance